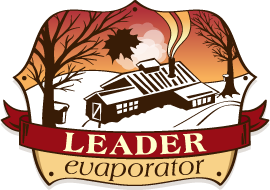 We are pleased to announce the current hours for our Maple Equipment showroom,
located at 489 Wilmington Cross Road, Whitingham, VT, effective through the conclusion of the 2018 maple season:
Friday: 12:00pm-6:00pm
Saturday: 8:00am-12:00pm
If you require immediate assistance, please call Roy at 802-368-2420 or send an email to corsemaplefarm@myfairpoint.net to place an order or arrange an appointment outside of showroom hours.

Please click the link below to review the 2018 Leader Evaporator catalog. Printed copies are available at our showroom.
Link to catalog for website: https://www.leaderevaporator.com/pdf files/Leader-2018-Master-Catalog.pdf
We are also an authorized dealer of LaPierre Equipment. Please stop by our showroom to review our selection of equipment and products.